Machine Control has progressed over the last twenty plus years. It is now being used on more and more construction sites. And the projects that machine control is being used on are getting smaller. No longer is machine control just used on the largest construction infrastructure projects.
As machine control becomes more popular on construction sites, then the number of people involved in machine control increases too. But what if you haven't had any experience of machine control before. Where do you start?
In this article, I will be going through the basics of machine control. By the end of this article, you should understand what machine control is and what you need to run machine control on a site.
How did Machine Control Evolve?
How did we get where we are today with machine control? Why is nearly all machine control now GPS based? These questions are to much for this article, they require a separate article. If you want to know how machine control evolved over the last twenty plus years, then have a look at the article: A Brief History of Machine Control.
---
Disclaimer: This site, and in particular this page, contains affiliate links to products. You are under no obligation to but if you visit and buy something from their site from a link on this site, we will receive a small commission, the price you pay will remain the same. This helps to keep this website running and your help is appreciated.
---
What is Needed to Have Machine Control Working on a Construction Site?
You may think all you need to run machine control on a construction site is a machine and the GPS control system for the machine. Well, there is more to it than that. To run machine control successfully on a construction site there are many things that we need. Some aren't so obvious at first.
There are at least six items needed to operate machine control successfully on a site. That is not including the engineer or surveyor that will be managing the site machine control. The six basic requirements for machine control are:
Survey Equipment.
A GPS Base Station.
A Site Localisation or Calibration.
A DTM or Digital Terrain Model.
Software to Convert the Design to load on to the Machine Control System.
A Machine fitted with a Control System.
What Surveying Equipment is Needed for Machine Control?
The machine needs to receive positional information from a source. This is most commonly GPS receivers mounted on the machine itself. And in this case, I would class this as survey equipment. The very latest of these systems are incorporated within the machine with the GPS sensors mounted on the cab rather than the blade (in the case of dozers) with the machine sensors relaying information to the control system.
An alternative would be to use a total station. This is not very popular these days. Quite often the total station also required the optional extra programme to be installed. This was certainly the case with the Leica Total Stations. I haven't used a total station machine control system for over ten years now.
A rotating laser level can also be used for machine control. Usually this would be a dual grade laser level with receivers mounted on the blade or the arm of the machine. This would be the most basic a machine control and would be for level or grade only. I haven't used a rotating laser for grade control for over 20 years. Even then it took a lot of effort to get it right.
A GPS Base Station.
For the GPS machine control to work accurately, the machines need to have a reference point. This reference point is supplied by the GPS Base Station. The Base Station is a fixed point GPS antenna dish that supplies real time corrections to the rover (machines) GPS units. It is the base station that gives the 10mm to 15mm accuracy.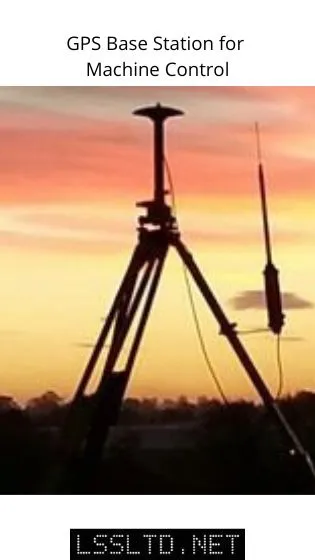 A VRS (Virtual Reference Station) system can be used with machine control. But this is something I don't recommend, especially on long term jobs. I find that there is to much variance in the reference station positions to have confidence day in day with them. To see what I mean have a look at the real-world accuracy of Network GPS Rovers.
A Site Localisation or Calibration.
If the design or model has been done to a local grid or a flat plane, then a site localization or calibration is essential. Even if you are using a design or model based on a co-ordinate system (like OSTN15) a localization or calibration is still a good idea.
What the site localization or calibration does is match the latitude, longitude, and ellipsoidal height to the ground co-ordinates we work with.
The site localization or calibration should ensure that the dimensional errors within the site works area are kept to a minimum. This will aid checking of the works as they are progressing.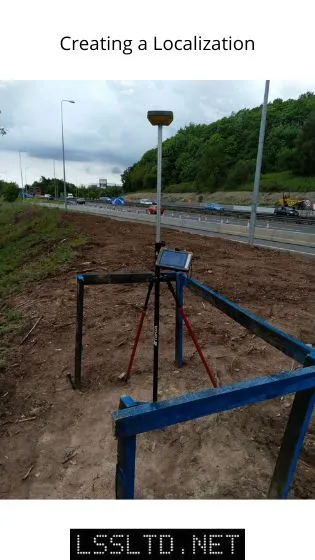 A DTM or Digital Terrain Model.
A DTM (Digital Terrain Model) is needed for the machine to follow. The DTM is a surface made from lots of triangular faces that are formed from lots of individual points over the site.
The DTM is usually created by the designer of the project and provided in the format of a dxf. Other formats maybe provided on request, but I find that most designers provide surface models in a dxf format.
If the designer has done their job properly the surface provided should contain enough triangular faces to represent the surface accurately without making them excessively small. If the triangular faces are small this will make the machine control files large and cumbersome. Flat areas will not require numerous triangular faces to represent the surface.
The smaller the file the better when it comes to machine control models. Large sized models with lots of small triangular faces will require more processing power. Processing that is also needed for calculations of position and movement of the blade, bucket or cutting face.
Software to Convert the Design to load on to the Machine Control System.
No matter which machine control system you have you are going to need some specialist software to work with and transform the designs. Which manufacturer you have will depend on what software you will need.
If you have a Trimble machine control system then you are going to need the Trimble Business Center software. This is because the Trimble machines require certain file types to work. These file formats are .cal for the site calibration,.svd for the surface information and .svl for the line information.
The Leica machine control systems are much easier to work with and you can use your preferred software solution. My preference is for the Topcon Magnet Office software. The Leica machine control systems can take different formats of files. The ones I use are the landXML format and the dxf format. The landXML for the surface and the dxf for lines and points. For the localization either the Topcon gc3 format or the Trimble dc format can be used.
Topcon Magnet Office is my preference for machine control software. This software allows me to produce a single file, a 3dmc file, for the Topcon machine control systems. This file contains all the information for the machine to work. One file compared to the three files required for the Trimble or Leica Systems. This file can also be loaded straight onto the Topcon Field Controllers allowing the machines to be checked easily.
There are other office software systems available to produce machine control model files. The other software that I have used in the past is the LSS software from McCarthy Taylor. This can produce all the file formats for all machine control systems but will need the file flipper extension for Trimble systems. But my preferred software is the Topcon Magnet Office.
A Machine fitted with a Control System.
The last thing required for a machine control system is an excavator dozer or grader machine of your choice fitted with a control system. These control systems are provided by either Leica, Topcon or Trimble. The machine control system is likely to be a GPS based system. Very rarely are total station machine control systems employed these days.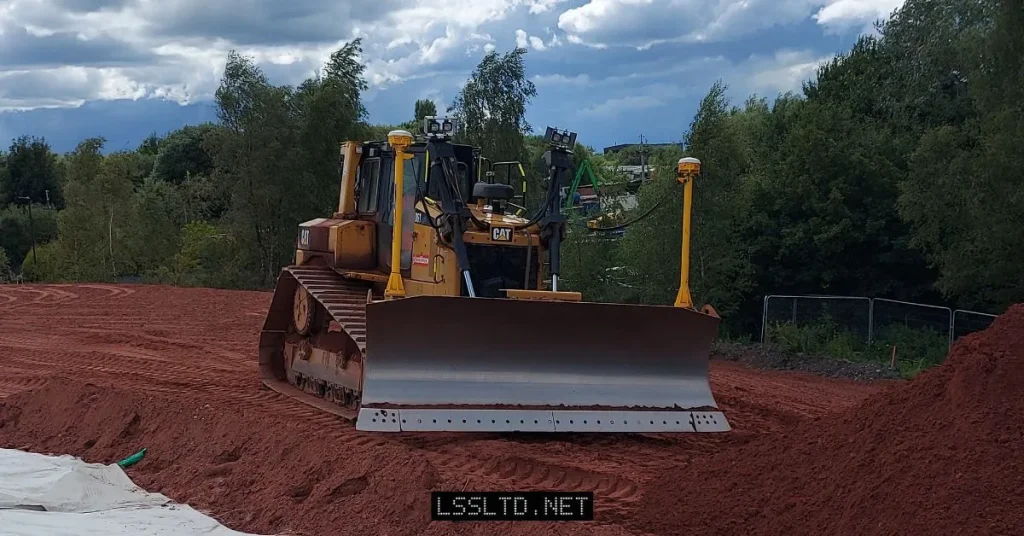 These control systems can either be fitted by the manufacturer or by and after sales company. Choosing an after sales company means that you can have your choice of manufacturer of the control system. This gives the site team more flexibility with the control system of their choosing.
There are considerable advantages to be had by choosing just one machine control manufacturer. These advantages are seen by savings in time and money and the overall efficiency of the site team.
The basics needed for machine control.
These are just the basic items that you need to run machine control on any site. These are enough to start using machine control on any site. But are only the start, what is missing from these items is experience. Experience in using machine control can only come from using machine control. Learning from the mistakes that have been made by others before you.
Any site can have a successful construction machine control system if you have all these basic requirements and keep checking the results of the site team. It can be daunting at first when there is no visual check to the work that is being done. Trust in the machine operators and the engineering surveyors checking the works being carried out is key to getting machine control working.
---
Related Articles
A Brief History of Machine Control
The Real World Accuracy of VRS Systems