Theodolites are instruments for measuring horizontal and vertical angles in the construction industry. It is a valuable tool that can provide accurate measurements of any given area. Many people need to purchase one, but do not know which one is best.
The best theodolites for sale in 2021 are on the market! With not many options, it can be hard to choose the right one, easy to find the wrong one. That is why we put together a list of what you need to know before purchasing. We'll help you steer clear of choosing theodolites that will not perform or will let you down at the most crucial time. That is why there is only two Theodolites that we can currently recommend.
Our pick of the best theodolites available today are:
Spectra Precision DET-2 Digital Electronic Theodolite
Topcon DT-205L Digital Electronic Theodolite
Disclaimer.
This site, and in particular this page, contains affiliate links to products. You are under no obligation to, but if you visit and buy something from their site from a link on this site, we may receive a small commission, the price you pay will remain the same.
What do you need to know before purchasing:
What features matter most? How much should I spend on the instrument if it's my first time buying one. Keep reading for more information! These two instruments are the best choices available today, but they come with different price tags and options that might make them better suited to certain tasks.
First up is the Spectra Precision DET-2 Digital Electronic Theodolite.
The Spectra Precision DET-2 is a top of the line Construction Theodolite that will make it easy for you to take accurate measurements. This tool is perfect for construction purposes and has multiple features to customize to your desired preference. This affordable, versatile, easy to use instrument and accessories will increase your productivity when turning angles and setting elevations and lines. 
The Spectra Precision DET-2 is the premier electronic theodolite. It comes with a 2 second accuracy, vertical axis compensation and large backlit LCD displays for easy viewing in any light. With an array of parameter settings, including programmable horizontal angles resolution, beep volume, automatic shut off to save battery life and zenith angle measurement on or off you are sure to find your perfect digital theodolite match. Its built-in reticule illuminator is very handy in low light conditions. The Spectra Precision DET-2 is ideal for your work with its IP54 rating. The dust and waterproof construction is great if you're in a dusty environment or frequently find yourself working in wet conditions.
The Spectra Precision is the first choice for surveyors and professionals who depend on precise, accurate measurements. With quick setups that are easy to manage with a low operator learning curve, it's never been easier to get out there and make your mark in the world.
Next up is the Topcon DT-200 series Theodolite.
Out of this range we have chosen the Topcon DT-205L with the red laser pointer option.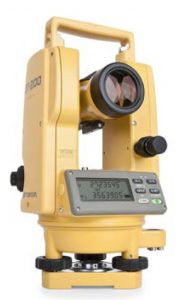 The Topcon DT-205L is part of the Topcon DT-200 series of theodolites. They have remained unchanged for a number of years, testament to the design of the instrument. The straight forward interface and easy use are what enable them to be so popular on busy construction sites. These instruments are created with professionals in mind as well as engineers because they are easy to use and fast to setup, enabling success in any environment or setting where people may be working quickly yet need precise measurements every single time without fail.
The DT-205L Theodolite has a number of key features that make it one of the most coveted models on the market. With 30x magnification, a very short minimum focusing length of 1m (or 3ft), and an integrated red laser pointer to help with measuring offsets from lines, this version of the popular DT series is a must buy for anyone looking to have as much convenience in conducting their work while out in the field as possible.
The DT-205L has an IP66 rating, which means it protected against dust that may harm the instrument and is protected from low pressure water jets. It also has an operating range from minus 20 degrees to 50 Degrees Celsius.
The Topcon DT-205 and the DT-205L are accurate to 5 seconds, a unit of angular measurement. In the real world at 200m away from the Topcon DT-205 you would could expect to be sighting within 2mm, either side, of your desired point. If you use both faces when taking measurements then this margin can be reduced significantly, so feel confident in doing more intricate work without worrying that measurements are off by much!


Try Lichfield Survey Supplies for the Topcon DT-205L

Related Articles