The Topcon AT-B3 Automatic Level sits in the middle of the new Topcon AT-B Series of Levels. It is described by Topcon as the versatile model for Surveying, Engineering and Construction.
I have been waiting for a while for my new Topcon AT-B3 to arrive, after ordering the Topcon AT-G3 which was to replace the Topcon AT-G6 I had been using for the past couple of years. I have been working on the A1M D to B site in Yorkshire and decided to upgrade my Auto Level.
I was surprised at the cost of the AT-B3 as I had been expecting it to be priced similarly to the AT-G3 model (around £900+VAT) but in fact the price was a very reasonable £300+VAT. The Topcon AT-B3 has a high specification for this price tag, with 28x magnification, 1.5mm accuracy and 20cm minimum focusing ability.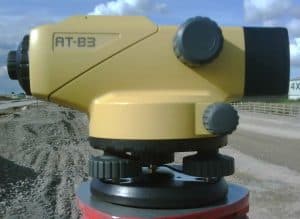 First Impressions.
The Topcon AT-B3 feels more solid than the AT-G6 I have been using and there is definitely more metal in the chassis of the Level. It is not significantly heavier than the AT-G6 but it definitely feels more robust. It is easy to set up and the levelling screws move freely yet have a sturdy feel about them and a good amount of resistance that allow fine tuning to be done easily.
Using the Topcon AT-B3
Focusing on the staff seemed to be tricky to get right. Getting a clear image of the staff took some careful adjusting and could be tricky if the staff is being waved back and forth. But once adjusted the image was clear and reading the staff was easy. The AT-G6 was easier to focus but with more use it might get better.
Using the AT-B3 on a levelling run of pins over a distance of 200m (on a live construction site) we observed a closure error of 1mm. The AT-B3 was not unduly affected by passing plant or vibrating rollers and this has to be down to the compensator fitted.
Rotating the AT-B3 around clockwise or anti-clockwise was easy with just one hand and the clampless screw adjusters allowed fine tuning of horizontal direction.
Verdict.
More robust than the AT-G6 and better priced than the AT-G3, I just wish it could have the 2 speed focusing feature of the AT-B2.
Update to the review (25/11/2010).
We have been using the Topcon AT-B3 for the last 3 months on site and we have today checked the level using a two-peg test giving a result of 0mm error over 50m.
Further Update to the review (26/01/2011).
Having used the Topcon AT-B3 since August, the focusing issue that I mentioned earlier has gone. The stiffness that was apparent in the mechanism has now disappeared and the action is smooth and free.